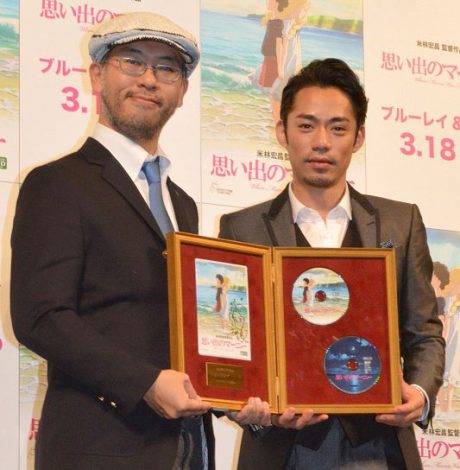 Arrietty the Borrower
and
When Marnie Was There
director Hiromasa Yonebayashi was in the news last week, first with an appearance at the Ghibli Museum's 12th Annual Animation Festival, which showcased a number of animated films around the world (including Marnie, of course). At this appearance on March 7, Yonebayashi was asked about his latest film,
and his future plans
:
During the Q&A portion of the event, Yonebayashi was asked the one question that was on everyone in the audience's mind (and is constantly on the mind of every Ghibli fan), "When is your next film coming out?"

After gently reminding the audience that there was a four-year gap between the release of his first and second films, he also joked that if you take too long between films, people may forget who are, poking fun at fellow Ghibli director Isao Takahata, who took eight years to complete The Tale of Princess Kaguya.

Yonebayashi continued with some juicier details. He explained that while he sees the need for and importance of "quiet" films such as Marnie, he agrees with Ghibli poducer Toshio Suzuki, who, for the sake of the animation itself, would prefer to do a film with more movement and excitement. On that note, Yonebayashi suggested that his next film could quite possibly be the direct opposite of Marnie and could be more along the lines of the playful and active Ponyo.
It was Yonebayashi's second event five days later that sparked attention on the internet.
At a Tokyo event promoting Marnie
, he revealed that he is no longer employed at Studio Ghibli. He, along with the studio's staff, were retired in late 2014, as the studio is currently suspending animation productions as they reconsider their future plans.
As you can expect, this caused mild panic among Ghibli Freaks online, and as these things usually go, a little information goes a long way. Unlike most Japanese animation studios, Studio Ghibli employed a full-time staff, which has steadily grown over the years as Hayao Miyazaki's films such as Princess Mononoke and Spirited Away became record-shattering blockbusters. The studio was also steadily involved in smaller projects, including Ghibli Museum short films, television commercials, music videos, and video games.
Today, Hayao Miyazaki is formally retired from feature film directing, and despite his wishes to create more short movies for the Ghibli Museum, and create a new Samurai comic, is keeping a lower profile, managing the studio's affairs and enjoying his spare time. He appears to be settling into his retirement. Isao Takahata, his elder partner of 50 years, is not retired, and would like to pursue new film projects, but the difficulties in securing funding and producers, and the march of time itself, may prove to be insurmountable. As for Ghibli's other ventures, they have all but dried up.
And so the studio has entered a holding pattern, not working on any new films. If and when any new productions are announced, the staff will likely be assembled on a contract basis. Yonebayashi, for instance, would most probably direct his third feature film for Studio Ghibli, and most of the veteran talent would return. But those are a lot of "ifs." As always, I would keep my eyes and ears trained on Toshi Suzuki, the studio's Svengali and power behind the throne, for any news. Everything else is just internet gossip and message board groupthink.